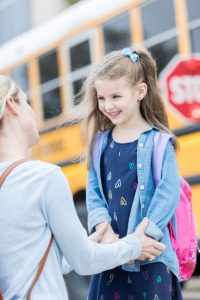 As families are preparing to go back to school, we should remember the children and adolescents that live with mental health conditions. As a community, we may expect all children and adolescents to be excited about going back to school. However; for a growing number of children and adolescents; going back to school increases stress and anxiety exasperating mental health conditions.
According to the National Alliance on Mental Illness (2018), 1 in 5 children ages 13-18 have, or will have a mental health disorder. In layman terms, approximately 20% of students going back to school live with a mental health condition. Let us learn how to be sensitive to all students who are preparing for a new academic year.
In this guide from Perspectives Counseling Centers, we'll provide helpful tips on how to navigate the conversation of "going back to school" with all children and adolescents.
Be Present & Listen
Don't assume every child or adolescent is happy about going back to school. Ask thoughtful questions and listen to their response. Staying present with what the child or adolescent says, and feels is most important.
Although tempting, do not give advice. Every person in the world desires to be heard and belong. Unnecessary feedback (advice) will move you further away from the goal. Listen to the child or adolescent. This will build trust and allow them to feel safe in your presence.
Be Supportive
One of the best questions to ask is, "What do you need"? Providing appropriate support will allow the child or adolescent to know that they don't have to walk through this alone. Living in a western society, individual accomplishment is celebrated. However; when we give children and adolescents permission to ask for help; we validate and support collective accomplishment.
Be Transparent
Be open to the conversation. Most people have at least one "horror" story about going back to school. Whether it was the year you received the "notorious" evil teacher, the year your mom and dad couldn't afford the latest jean trend, or when you went through your "awkward" phase. Sharing stories normalize experiences and provide children & adolescents hope for the future.
Be Wise
Mental health is complex; know your limits. If you suspect a child or adolescent may need professional mental health, refer.
Perspectives Counseling Centers is one of Metro Detroit's largest, oldest, and most experienced counseling centers which now has 5 locations to include: Clarkston, Novi, Plymouth, Sterling Heights, and Troy.  With well over 40 Michigan therapists, counselors, and on-staff psychiatrists; there is certain to be a mental health practitioner to meet the child's or adolescent's mental health needs.  To schedule an appointment or for more information call (248) 244-8644.
Mental Health Literacy
To effectively address youth mental health, it is essential that Mental Health Literacy becomes a focus of mental health interventions for young people.
Igniting Mental Presence and Cognitive Toughness (I.M.P.A.C.T.) is a research-based; theory-driven mental health literacy program developed by Perspectives Counseling Centers, Oakland Psychological, and Heron Ridge Associates to assist schools and communities decrease mental health stigma and increase help-seeking behavior. The goal is to improve mental health awareness and enhance overall health and safety for children and adolescents.
To become a pilot school, a community partner or learn more; contact Olivia Dixon, MA, LLPC, Mental Health Awareness Liaison at (248) 244-8644 ext. 159, Olivia.Dixon@perspectivesoftroy.com, and/or https://perspectivesoftroy.com.
National Mental Health Awareness
Although changing, mental health is still a stigmatized taboo topic in many of our communities. The more we support mental health, we teach children and adolescents that all people matter. Consider supporting one of the upcoming national initiatives that brings awareness, love, and encouragement to those living with mental health conditions.
National Suicide Prevention Week: Sunday, September 9th – Saturday, September 15th
World Day of Bullying Prevention: Monday, October 1, 2018
National Bullying Prevention Month: October 2018