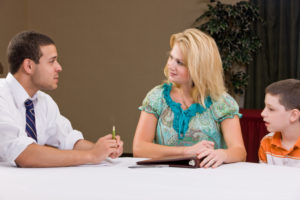 If your child has been diagnosed with Oppositional Defiant Disorder (ODD), there are several treatment options you may explore for your child. Because ODD covers a wide range of emotions, behaviors, and reactions, your child's ODD treatment should be tailored to fit his or her needs. As part of our child counseling services here at Perspectives Of Troy Counseling Centers, we ensure that each child is given the exact care he or she needs, along with special training for the parents to follow through with. The information below provides an overview of some of the ODD therapies your child may undergo so you can prepare for what's to come.
Individual Child Counseling
Children with ODD are often resistant to counseling, but some go along with the process willingly. Regardless of the situation, your child will benefit from working with a professional child counselor. This person will help your child learn how to manage his or her anger, which may include social skills training, communication training, and more. As a whole, your child's counselor will try to help your child find a healthy way for him or her to express his or her feelings, rather than using anger, rage, or vindictiveness. This process takes time, but in the end, it can do wonders in helping a child with ODD interact with the rest of the world.
Family Counseling
Another form of counseling that your child may benefit from is family counseling. This process is designed to help every member of your family get to understand each other a little better. You can learn how your child is feeling and what he or she is going through, and your child can see how those behaviors affect you, your spouse, and your other children. Some children thrive more in family counseling because they have the support of their family members in the same room. Others open up more in an individual setting without their parents around. If you choose to work with the team here at Perspectives Of Troy, we will make sure your child is in the best counseling program for his or her unique needs.
Parent Training
Much of the therapy for ODD happens at home, which means that parents have to learn new ways to interact with their children. It's important for you to understand why your child is behaving a certain way, but that does not mean you have to reward inappropriate behavior. A mental health professional can work with you to determine which parenting techniques will work best for your child so you can resolve problems as quickly as possible. This will put less stress on you, and it will make the process less frustrating for your child (who may not know how to communicate his feelings during acts of anger).
Note that a large portion of parent training comes down to patience. You must be able to show your child unconditional love and support no matter how he or she acts. It's normal for you to feel frustrated, beaten down, and overwhelmed at times, but you should also learn how to suppress those emotions (when appropriate) in order to get your child through his or her struggles. Your counselor can help you through every step of the way, so you know you are never alone.
Cognitive Problem Solving
Cognitive problem solving is designed to help your child identify thought patterns that cause behavioral problems. If your child can recognize a problem before it happens, he may be able to make changes in his reaction or actions moving forward that bypass the outburst altogether. Cognitive problem solving is a common component of child counseling, and it may take several sessions to come up with the right strategies for your child specifically.
Parenting Tips For ODD
While working with your child at home, try these ODD parenting tips:
Lead by example. Show your child the type of behavior he or she should strive for. It's hard to teach a child to control his or her anger if that is all he or she sees at home.
Praise and reward positive behavior. Parenting is about more than just punishment and discipline. It's also about recognizing a child's accomplishments and rewarding good behavior. This is especially true for ODD children who feel like their poor behaviors are merited. Rewarding good behavior will teach your children what they should and should not try to do.
Create a structured lifestyle for your child. Children do well with consistency and repetition. Something as simple as going to bed at the same time every night and eating dinner at the same time will provide a strong sense of structure for your child to follow. This will make it more difficult for him or her to deviate from what is expected.
Avoid power struggles. It's easy to say, "I'm the parent. You must listen to me." But that mentality won't always help you win the war. Pick your battles, and listen to what your child has to say. Acknowledge the value of that opinion before casting it aside.
Stay consistent. You may feel like giving in, especially in the early stages of ODD treatment. If you keep up with your parenting strategies though, they will pay off in the end. If you feel like you aren't getting anywhere with your child, ask your child counselor about different techniques you can try at home, in addition to the ones you already use.
Prepare for things to get worse before they get better. This is very common for children with behavioral issues. You may not see any improvements at all when you first start working with your child. In fact, his behaviors may get worse and more frequent than they were before. Mental health experts refer to this as an "extinction burst," like a balloon filling up with air before it finally pops. If you can remain patient throughout the process, you can see your child's "pop," along with a rain of good behavior to follow.
Assign your child essential household chores. This ties in with the idea of consistency and structure. Give your child a task to do that is both age-appropriate and easy to achieve at first, like feeding a pet or putting the dishes in the dishwasher. Over time, you can add to these chores to give your child more responsibility. Note the use of the word "essential." These should be chores that have to be completed in order for the household to function properly.
Devote special time to bond with your child. You may set up a date night every week with just you and your child, or you may schedule a certain time of the evening for reading a book together, watching a movie, etc. The more involved you are in your child's life, the better his communication will be in the future.
Parenting a child with ODD is difficult, but all that hard work will pay off in the long run. Your child will enjoy better relationships and a better quality of life thanks to the help you provide for him.