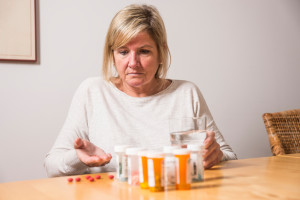 Substance abuse and depression are often linked together, which brings up one major question – "Which comes first, the addiction or the depression?" This answer will vary from one person to the next, and the fact is that it's not always easy to tell which one sparked the cycle. With that in mind, this discussion will take a closer look at substance abuse and major depressive episodes in Metro Detroit and Michigan.
A Look At The Numbers – Substance Abuse And Depression Statistics In Michigan
The National Survey on Drug Use and Health reports that 9.6% of Michigan residents over the age of 12 suffer from a substance abuse disorder. That number is lower than the statistics for Metro Detroit (10.1%), but higher than the national average of 9.0%.
In regards to depression, 7.0% of Michigan residents over the age of 18 experience a major depressive episode every year. This is similar to the statistics for Metro Detroit (6.9%), but it is still higher than the national average of 6.6%.
Is Substance Abuse Linked To Depression?
Based on statistics alone, it's difficult to link depression and substance abuse with one another. However, our experience shows that many patients who seek out depression counseling also endure substance abuse – or vice versa. The two most common scenarios are:
A person begins feeling depressed and uses alcohol or drugs to help fight their feelings of sadness, anger, frustration, etc.
A person develops a drug or alcohol addiction and then becomes depressed about the state of his or her life.
Either scenario leads to a vicious cycle – more drug use, more depression, even more drug use, even more depression. Until a patient is able to overcome one or both of these obstacles, he or she may feel trapped in a world of addiction and depression. Luckily, there are treatments available to get out of this downward spiral and start enjoying life once again.
Treatments For Substance Abuse And Depression In Michigan
Whether you're suffering from depression, anxiety, substance abuse, alcoholism, or a combination of factors, you can seek out professional counseling and therapy to work through your condition. Here at Perspectives Of Troy Counseling Centers in Michigan, we offer a wide range of addiction treatments and depression counseling services, tailored to fit your needs. When you work with a professional counselor, you can develop a better understanding of what you're going through so you can identify and avoid triggers in the future. Learn how to get through your major depressive episodes and how to fight addiction, and you will soon enjoy a much better quality of life.